SIAC, CCCC & CRBC SIGNED MOU TO DEVELOP, BUILD, AND OPERATE THE LOGISTICS ZONE IN ALEXANDRIA PORT.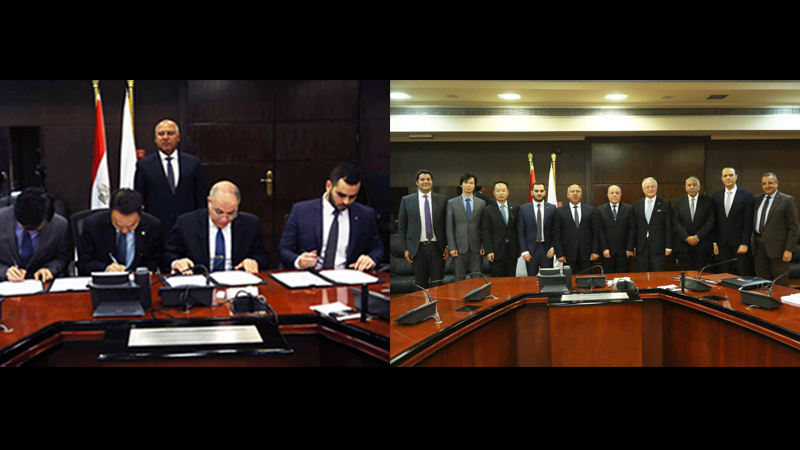 Lieutenant General Engineer Kamel Al-Wazir - Minister of Transport witnessed the signing of a memorandum of understanding (MOU) on 19/11/2022 between Alexandria Port Authority (APA) and a global consortium led by CCCC, China Communication and Construction Corporation (CCCC), and China Road and Bridge Corporation (CRBC) regarding the preparation of the technical plan and the business model for the establishment, management, operation and exploitation of the region Logistics in Alexandria Port, where it was signed on behalf of the (APA) by Rear Admiral Nehad Shaheen, and on behalf of (SIAC) by Mr. Marwan Ragab, and on behalf of (CCCC) by Mr. Ji Liu, and on behalf of (CRBC) by Mr. Ji Zinfan.
The signing comes within the framework of the new republic, whose foundations were laid by His Excellency the President, and in implementation of His Excellency's directives to make Egypt a global center for trade and logistics. The project will enhance the export of Egypt leading to increase of foreign currency to the economy.
The logistics area will be the first to be established in line with the most advanced international standards, added the minister.
The minister stated that this signing comes in implementation of the directives of the political leadership to maximize the partnership between the public sector with the international and local private sector in the projects of the Ministry of Transport, the public sector represented by Alexandria Port, the international private sector represented by the Chinese (CCCC) and (CRBC) companies, and the local one represented by (SIAC) in addition to attracting investors to the projects of the maritime transport sector and achieving a developmental leap in the field of maritime transport
Latest News